"Instead you ought to say, 'If the Lord wills, we will live and do this or that.'"
Plans made. Plans changed. Plans on hold. Plans up in the air.
That is life at our house since Kati became ill last week.
The good news is that all of the "bad" things have been ruled out. (Thank you, Lord!) But yet we wait for test results and answers.
We are seeking His guidance in making decisions, great and small.
"O Lord, I know the way of man is not in himself; it is not in man who walks to direct his own steps."
(Jeremiah 10:23)
And so we put all of our plans into His hands.
Plans

(Lord willing...see above!)

for the blog this week...
Sometime tomorrow I'll post this week's
Slow Cooker Tuesday
recipe. Guess what? Kati is guest posting for me this week! Poor girl! How can she be up to doing this? Well, she is
not
a procrastinator like her mom, so she had already made the recipe (twice!) and had written her post before she became ill.
On Friday I will be posting this month's
Gathering the Moments
, including a link-up in which I invite you to join me. (Again, the link-up will stay open for a week, so you have plenty of time to gather. Details ~
here
~.)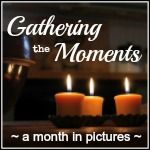 Then on Saturday, I will be sharing the last week of February's
Photo-a-Day Challenge
. (Yes, I realize that it will be March by then!)
As I have indicated, we are planning loosely around here. These are my plans...Lord willing. And if anything changes, I know you'll understand.



(Maybe you'd like to listen to this old hymn, as sung by Amy Grant..."
Sweet Will of God
."
Beautiful.
)